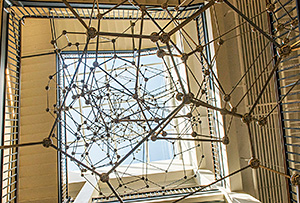 Methuen Construction
They grew several new branches...so we built them a treehouse
Methuen Construction was growing.
Not only were they building a new state-of the art facility, they decided to break out into 3 unique companies— each focusing on their own specialty niches
First was Methuen Construction, the design/build branch. Design, planning, facilitating and constructing Wastewater Treatment Plants, Biogas Plants, Dam Reconstructions, etc. BIG projects.
Summit Metals was the new Metal Fabrication branch. Think steel holding tanks, nuclear submarine enclosures, even a 56 foot high Antony Gormley Sculpture at MIT! Cool stuff.
Methuen Facilities Services was the new "keep-the facility-working" branch. If you own a big water, sewage, biogas, hydropower or any other type of technically-complex facility. They'll keep it running – and running safe.
3 Websites... Easy-peazy. Right?
Not so much. Here's the rub:
All 3 websites would require their own mobile-responsive site and operate under a unique domain name.
All 3 websites should be independently content-managed, yet allow "select" content to populate across all 3 sites. (sometimes it's a family affair)
Global content management and a tiered-user administration, for all 3 websites, should be controllable via the Corporate Marketing Department
Wait, there's more.
With this big move, came two other sizeable challenges. One was that Methuen's 2-person marketing team also had to conduct a complete overhaul of the brand and graphic systems for all 3 branches — everything from logo & identity systems, to vehicle graphics, to interior graphics and signage for their new headquarters. A ton of materials needed to be re-designed and re-printed. That was our job too.
The other was that all 3 websites and new graphic systems had to be complete by Jan 1st.
Could we do it? Yes, absolutely.
The re-branding work was no sweat – our designers would knock that out with them in no time. The web components weren't going to be easy, but here was a chance to build a new, and easily-manageable web property, a fresh foundation for all 3 Companies that they can evolve and consistently market their unique services.
Management of all 3 new independent sites had to be simple and (said in the tone of Yosemite Sam…) NO convoluted, third-party, plugin-heavy, hackable, always-having-to-update, open-source system was going to do the job. No sir! These construction guys just wouldn't be happy with that outcome.
Custom was the way to go.
Tried-and-true HTML frontend with a flexible ColdFusion backend was ideal. No updates, license's or plugins EVER — One and done!
Fast forward...
Today, all 3 companies are up and running smoothly. Branch managers are controlling their own site content and their Brand and website standards are holding strong! The marketing team has global oversight and control of all 3 properties, including global SEO control. Even HR has control of their job postings & publications for internal and external audiences.
Foundation for marketing & management success completed!
What do we build next?

Brand Development
Website Development
Application Development
Content Design
Trade Show Design
What we did:
Identity systems / brand standardization
Custom CMS, master & branch admins, SEO, HR integration
CMS "Page-to-PDF" for press-ready / desktop printing
Marketing material design
Universal Show System Design